If you're thinking about starting a podcast, I'm going to tell you right now that it's no easy task. Think Master's Degree but not nearly as enjoyable. That's not to say you shouldn't start one because it can (and better be) fun but it takes a LOT more time than you think it will.
In the spirit of #shareyourwork2020, below is a living journal as I create and hopefully improve my newly-released Podcast Gumbo podcast. (Trailer dropped on December 14, 2019.)
What not to expect: This is not a step-by-step guide on how to create a podcast. I have no interest in working that hard….
So here we go. A weekly journal of all the fun and ugliness that only creating the Podcast Gumbo podcast can bring. I want you to know the good and the bad. This show, especially when starting, will have plenty of warts. Hopefully reading about them will help you.
I take no responsibility for any psychiatric help you may require for this peek into my cerebral cortex.
Note: I will update this article on a weekly basis, usually on Tuesdays. So bookmark this page if you think this is even remotely helpful as you consider creating your own podcast.
Table of Contents
Podweek 1 (1/7/20)
And So It Begins
Way back in mid-2018, I was lucky enough to have met Julie Shapiro, Executive Producer of Radiotopia at the Podcast Garage. I had a bunch of podcast ideas spinning around my addled brain and she simply told me that I needed to choose an idea that I loved. Honestly, I expected something more valuable and thought-provoking from someone so important in the podcast community. It took a long time for it to seep through the deaf stonewall known as my skull that it was the best piece of advice I have ever gotten. At least podcasting-wise. Nothing really can top this life-changing tip.
Those two things are too essential to bundle with other information so that's all you're getting this week.
This Week's Podcast Gumbo Episode – National Fruitcake Toss Day With Lori Mortimer
Podweek 2 (1/14/20)
'Launch to Learn'
It's only week two and I'm giving you an inspirational quote. I promise to minimize them throughout the year.
I read that quote somewhere recently and it hit home. You see, I spent a year and a half learning all about podcasts. I've even given feedback to podcasters starting their podcasts. (You can ask them whether I had anything valuable to say.) My over-confidence was stunning.
As I prepared to drop the trailer, complete panic set in as I went through the process.
Do I need a trailer?
Do I want/need a tracking feed like Chartable or Podtrac?
Who do I tell beside my dog?
Do I need to own my RSS feed?
How long will it take for my show to show up in Apple, Google, Spotify, and other platforms?
What's the best color to use for my show art?
Who is going to cook for me while I spend endless amounts of time scratching my head figuring out answers?
The worst part was that those are just 7 questions that I hadn't thought much about or didn't even know to worry about. So many others came up. Technical. Marketing. Website. Social Media. It felt like I was picking a 2005 health insurance plan but way worse.
As a solo creator, you realize that you can't possibly know everything at launch but more importantly, the only true way to learn is to launch. Your podcast won't be perfect but then again, it never will be – you will always be wanting to make it better. At least I hope you do. So launch it and just plug away.
Important note: Many thanks to Evo Terra and Ma'ayan Plaut for helping me off the bridge and making it to 2020 with some sanity left.
Lastly, DM if you want to know what legal substances I take for helping my imposter syndrome. It's bad.
Improvements – a) Added audio cues this week (starting with National Popcorn Day). Even though the podcast is short, I felt the need to give listeners little cues that a new segment was starting. b) Thanks to RadioPublic advice, I've added a How to Listen page on this website.
Helpful Resource of the Week – Want to start a podcast? Read this first.
This Week's Podcast Gumbo Episode – National Rubber Ducky Day With Charles Gustine
Podweek 3 (1/21/20)
K.I.S.S. (Keep It Simple Sh*thead)
As I've mentioned previously, my show was languishing in my head for over a year. And then it all came together quickly and in a semi-unexpected way.
I was at the 2019 Third Coast Conference and not knowing what particular session I wanted to go to, I took a flyer on a mentoring session. Not the first thing I thought I would be attending at an audio festival.
As it turned out, I sat next to Brad Turner, a senior producer for the On Something podcast. Brad and I had met a couple of times previously but on this occasion, the facilitators made us tell the person next to us some goals we had and that person would mentor us. As I explained my convoluted idea to Brad, he said to keep it simple. (He kindly left off the sh*thead part.)
So I went back to the drawing board. How could I keep my podcast simple? I honestly don't remember all the bad ideas I flushed away. One half-baked idea that I half-executed as a test was to have non-podcasting friends suggest National Days for me to research. And then I thought I would allow random people call a voicemail number and leave me audio. These ideas are not as simple as you would expect.
Then it hit me. Have my podcasting friends challenge me and send me audio. They had the ability to send me good audio and they would instantly get over a million new listeners to their show within 1Q20 because my show would be that popular. They help me. I help them. Win-win.
Improvements – I never thought I would add music to my short show but after playing around with audio cues, I realized there is a need. So while you won't hear this improvement for a couple of weeks, it's something I'm working on.
Helpful Resource of the Week – Podcasting 101 from PRX and Google
This Week's Podcast Gumbo Episode – National Popcorn Day With Jill Jarocz
Podweek 4 (1/28/20)
"Your show is great. I love it."
You would think that's kinda nice to hear, right? Don't we all want people making us feel all warm and fuzzy? Not always.
As my friend Lori was excitedly creating the trailer for her Mementos podcast, she was asking various people for feedback. Of course, I jumped at the chance to tell her that it was subpar and make her cry. Somehow, it makes me feel superior when I can do that.
But she shoved that right back in my face and thanked me. You see, she had asked some co-workers and they all told her how great it was. But that wasn't what she needed. Her trailer (at that point), needed to get better. Two weeks later, she came out with her fantastic trailer. I'm not saying that it was all because of me but coincidence? I think not.
There's probably going to be a running theme in all of these diary entries. If you haven't figured it out, it's that you need people to succeed. (And no, not just those faceless downloaders.) I have been lucky to have met and ultimately lean on so many great people for help that I respect. This is not to say that you don't ask your friends who are going to be nice and supportive. Just make sure you know what you need and ask for feedback from people that are best suited to give it to you to make your podcast better.
Improvements – I've got my intro music nailed down. Now working on updating the audio cues and the outro. I'm going to release them all at the same time so you won't hear them yet.
Helpful Resource of the Week – How to do loudness: the LUFS and LKFS FAQ for podcasters
This Week's Podcast Gumbo Episode – National Opposite Day With Scott Johnson
Podweek 5 (2/4/20)
Dressed For (Un)Success
For many podcasters, we have a limited budget. Some have no budget. So a nice sound studio is umm, not an option. Luckily, many of us have a decent free option – a clothes closet. The reason is that if you're in a room filled with cute, cuddly soft clothes and a decent door, you can a) minimize the amount of ambient noise your mic will pick up and b) your voice won't be bouncing all over the place.
For the first five episodes of Podcast Gumbo, I've recorded in the closet you see pictured above. I'm pretty happy with the results. I haven't had to do any fixing in post-production because I've been able to control the sound exceptionally well. It also sounds reasonably warm using an inexpensive mic. (Important note – right outside the closet, I have two sketchily-sealed windows that face a busy highway. Trucks and cars are not my friends. )
But as you can see, it's no walk-in closet. I'm jammed in there. I can barely close the door. And that, I'm beginning to realize, is a problem.
In my quest to improve my delivery, mainly to make me sound more natural, I'm hindered by being crammed into a tiny closet. As a podcaster, you are always trying to improve your delivery. For me, it's unnatural and I'm a long way from feeling comfortable behind a mic. I don't flail my arms around like a crazy person while I talk, but I also don't usually sit in a closet talking to myself either. (At least on most days.)
So there's the problem. I've got to figure out how to get good sounding audio that also sounds natural. On the cheap.
I've talked to multiple people about this. I've heard lots of interesting tips and tricks. Stand up. Practice numerous times before hitting the record button. Put a picture of someone in front of me so it seems like I am talking to them.
As I continue to put out my weekly episodes, this will always be at the forefront of issues. I hope this gets better sooner than later.
All that said, another huge issue I'm committed to this month is my marketing. Sure, 13 downloads per episode are nice but that's not going to cut it much longer.
So much to learn and do.
Improvements – a) There's been a lot of talk about podcast privacy issues lately. In my show notes, I've added information about my use of Chartable and a link to their privacy statement. b) There's a good chance I will have my music done by the February 11th episode. YES!
Helpful Resource of the Week – Most shows ask for ratings and reviews to help increase exposure. This is an informative and entertaining Darknet Diaries episode that explains whether it helps or not.
This Week's Podcast Gumbo Episode – National Create a Vacuum With Patti Freeman Evans
Podweek 6 (2/11/20)
It's YOUR Podcast
I never thought I would be writing about this topic. Call me ignorant.
Because national days are pretty much set in stone, if I'm not lazy, I can get way ahead of my episodes. I don't have to wait to plan out a year's worth of episodes. In a future post, I'm going to share my planning schedule with you. (I can sense the excitement already!)
One of the key issues I thought about when creating my show was how I could make it sustainable. How could I keep friction to a minimum? Keeping it short was critical. Not having to rely on a co-host's schedule was also important.
Since you've listened to an episode of my show (don't dare say you haven't!), you'll know that I include a 15ish-second piece of audio from my friend asking me about a national day. They also recommend one of their favorite podcast episodes. It's not a big ask. At least not in my mind.
This week, my guest never sent me their audio. Given that I am always in the mindset of being consistent, I was left scrambling to find another guest. Trust me when I say that due to other unforeseen circumstances, I seriously thought of bailing on this week's episode. Nobody would really care. Except me.
So I scrambled. Thanks to my friend Jenna Spinelle, one of the hosts of the Democracy Works podcast, I was bailed out of a tough spot.
So what is this entry about? When I think about it, it's about two things.
Your podcast is YOUR podcast. You can't expect any guest to put as much importance on it as you do, no matter how small their role is. Your schedule is not their schedule. A friend of mine interviews people and the gripe is that scheduling guests is the worst part of creating the show.
Have a backup plan. I know what Mr. Kim says but your sanity needs one. I didn't have one and it was miserable even though it worked out well in the end.
For transparency's sake, I now have all my guests confirmed through 3/25 AND I have most of their audio as well. If you're a guest and reading this post, SEND ME YOUR AUDIO OR NO MORE CUTE EMOJI'S FROM ME.
As sucky as it was to have to scramble, this was a great lesson learned.
On a side note, I went down a LUFS rabbit hole this past week. Stay tuned. I also had a dream last night that people were giving me feedback on my show and it was hurtful. I have never been so happy to wake up at 4am.
Improvements – Listen to that music! It's 98% done but in the spirit of progress over perfection, I wanted to release it now. I'll make minor tweaks in the future. Make #JimMakesAwesomeMusic go viral.
Helpful Resource of the Week – I've been a part of the Bello Collective community for about a year and I love it. This is their Podcasting 101 resource.
Podcast Gumbo Episode – National Make a Friend Day With Jenna Spinelle
Podweek 7 (2/18/20)
My Gear
I purposely held back on this information as it is so secondary to everything else I've talked about. It's about gear. Specifically, my gear.
It's honestly cringeworthy to join some Facebook groups or subreddits and have to sift through all the SAME questions. What mic should I use? What's the best hosting plan? What editing software should I edit with? I had to stop visiting most of those resources because it was so painful.
I refuse to add yet another answer that is going to confuse you. All I can tell you is what I use. The whole point of this is for you to know what I use and if you listen to my podcast, knowing what the results are.
Microphone: Samson Q2U. When I started to consider making a podcast, I knew I needed a mic. (Say, duh!) I had borrowed a friend's Blue Yeti. I tried Apple Earbuds. After doing some research, I bought this Samson because it was low-cost and had gotten decent reviews. It was comparable to the Audio-Technica ATR2100 that so many people like. I got mine on sale for $40 which is about half the price of the ATR2100. It has a foam filter and a mini-stand in the kit. Weirdly, I'm trying not to drool over the soon to be released Samson Q9U.
Headphones: Audio-Technica ATH-M30x. First of all, get yourself a real set of headphones. They don't have to be super-expensive. These are about $70 but someone gave them to me. This is a story I will share at a later time.
Audio Production Facility: My closet. Is it perfect? No. Is it sufficient? You tell me. I wrote about it in Podweek 5.
Podcast Hosting: Captivate. Is it the best? I have no idea. It's relatively new so there's a risk. The price is decent but certainly far from the cheapest. I could take the safe way out and go with one of the big names. The reason why I chose Captivate? Mark Asquith. End of story. It would take a lengthy post to help you understand why it was important for me to support Mark and his company. Maybe one day I will write that post.
Editing Software: Hindenburg. I trialed so many pieces of software. When I was dabbling a year ago, I even tried using Final Cut Pro 7, which I used as a video editor many years ago. I have looked at Audacity, Reaper, GarageBand. I didn't trial Adobe Audition because I didn't want that ongoing monthly cost. Pro Tools and Logic were scratched due to cost. I continued to come back to Hindenburg because, for me, it has a very simple interface that belies its power.
Post Production Plugins iZotope RX 7 Standard. I have it but I haven't learned it so I have yet to use it on my files yet. But that may be coming soon. (See Issues below.)
Other Post Production: Auphonic. Due to some things that have just cropped up, I may stop using Auphonic. If your audio is lengthy and the levels are all over the place, I would recommend trialing this software.
ID Tagging: – ID Tag Editor. I am anal and want my files to be tagged appropriately. It's very debatable on whether it matters but it only takes 5 minutes for me to do it so I do it. If it took longer, I would probably not bother. There's a chance I can do this in Hindenburg so this may be going away as well.
Issues – Someone I trust said that he could hear a hiss through my audio. I don't hear it so I have to do some digging. I also felt like last week's episode had a lot of mouth clicks. I just loaded iZotope RX 7 on my laptop and need to do some research.
Improvements – a) It was very smartly suggested that I have an easy way to read this ever-lengthening article so I put in a table of contents. Not everything is about the technical aspect of the podcast. b) I've set up a template in Hindenburg to save a little time creating my podcast. Every little bit helps.
Helpful Resource of the Week – Tweet: If you were given $1000 to spend on your podcast, what would you get? That second answer by Martha Lawton is the only answer. It's costly to attend events but the benefit of meeting people in the industry is invaluable. The seminars are secondary.
Podcast Gumbo Episode – National Lost Penny Day With Morgan Jaffe
Podweek 8 (2/25/20)
News and Not-worthy
I try not to worry about podcast stats because, as a new show, it's super counter-productive. But it's hard not to peek at them since I have to go into my hosting dashboard to post a new episode every week.
As it turns out, I hit a milestone this week. February 20th, to be exact.
The funny thing? I don't know what to think about that number. Is it good? Is it bad? How many of those downloads were from me and foreign bots? For a point of reference, I launched my trailer on December 14th, and my first real episode came out on January 3rd. By February 20th, I had dropped seven real episodes.
I also found it interesting that my show has the most listens on the Castbox app and that I have an audience in Iran.
This morning, while procrastinating on doing PAID work, I logged into my Apple Dashboard for the first time since I created it. I was surprised at how little information it gave me. However, I did find it oddly amusing to see the Average Consumption numbers. Not quite sure what those mean and how National Fruitcake Toss Day can be at 130%.
Lastly, I jumped over to my Chartable dashboard. Just in case I was starting to feel cocky about my 1,003 downloads, I was greeted by this:
At least it had a smiley face.
Issues – I now hear the hiss on my audio. It's not terrible and I don't think most people would hear it. But now that I know that it exists, I'm trying to fix it.
Improvements – a) I've tweaked my show notes some more. b) More importantly, I've reached out to people to find ways to collaborate which I think is one way to help market my show. I can chip away at making my show sound better but it doesn't do any good if nobody is listening to it. c) I have reached out to friends and I now have my guests booked through early-June!
Helpful Resource of the Week – Not three. Not four. Count 'em. Five quick tips to improve your podcast audio.
Podcast Gumbo Episode – National California Day With Ian Elsner
Podweek 9 (3/3/30)
Tempura vs Templates
Given that I am 100% Japanese, that makes my parents 100% Japanese. As such, I was lucky enough to have gochiso growing up and still have it whenever my mom cooks. Tempura is undoubtedly a favorite.
Know what else I love? Templates. I loathe inefficiency so I'm always looking for ways to minimize time on repetitive tasks. Creating and using templates is a huge step in that direction.
In my podcasting process, there are several templates I have set up and I'm always looking for more. We all know that podcasting takes a lot of time, even for a 5-minute podcast. And there's a lot of sh*t work that we all hate doing.
Honestly, if I had to choose between tempura and templates, I might have to pull out a sword instead.
So here are a few ways I help myself by using templates.
Emails to guests. I write two emails when I engage a guest. I copy/paste 95% of the email content.

Email asking them if they want to be a guest
If they agree, I send a follow-up email with very detailed instructions. I know it seems like my ask is simple given what is heard on my show but it's not. It's been a learning process to see where guests get tripped up and how I can be more explicit.
Task management. I currently have 30 very specific tasks to complete an episode. It starts by asking and getting sign-off from a guest and ends with tweeting about the episode. I use Omnifocus as my task management software so I created a template I copy for each episode and make minor edits based on the person and the national day they chose.
Writing. I use Ulysses to write. I created a document structure that includes the following pre-formatted 'sheets.' Note – I will be working on a way to make this better by automating some of the common text (i.e., I type the name of the national day in multiple places so it's silly to have to type it out more than once.)

Recording script
Episode notes (All the information that I need to populate into my hosting provider)
Episode website content text (title, meta description, transcription)
Other resources (mainly comments from guests and links)
Mac Finder folder structure. I have an individual folder on my Apple laptop for each episode. The subfolders are:

Audio files from guests
Exports
Captivate Upload (the final file that gets uploaded to my host)
The Hindenburg files are created from a template (see next bullet)
Hindenburg template. Hindenburg is my editing software and I know that there are three common files I need for every episode. I have created a template that includes the following:

Intro with music
Out with music
Audio cues
Common metadata like show name, my name, copyright, and artwork are included in the project file.
I also have created a publish setting so it's a one-click export.
Issues – As mentioned in Podweek 8, I try not to look at stats but I couldn't help see that this week was a bit of a downer.
Improvements – a) New audio cues. b) Used iZotope to minimize mouth clicks and all those esses. c) Made a big change to my episode notes. This will be discussed next week.
Helpful Resource of the Week – RadioPublic's new twelve-part video series on creating and implementing an adaptable digital strategy for audience growth and development.
Podcast Gumbo Episode – National I Want You To Be Happy Day With Juleyka Lantigua-Williams
Podweek 10 (3/10/20)
The Rant
I lied. Last week, I said I would talk about Show/Episode Notes. I even have it written but I couldn't help but throw in this rant first.
As I've alluded to, I've been figuring out ways to market my podcast. There are a lot of things one can do but one thing that confounds me that some podcasters do is chase listeners.
I see this tweet scenario all the time.
I can't prove it but I suspect many of these accounts are bots or some person that wants to be an influencer and they think having tons of podcasters replying to their tweet gets them cred.
What baffles me is that podcasters fall all over themselves asking for their show to be listened to. What is the best-case scenario? One new person listening to your show?
Worst case scenario? You've just wasted your time. But if you're doing it once, you're probably doing it multiple times.
I don't know why it bothers me so much. I should find it comical but in truth, I find it sad. That feeling was accentuated when this happened recently.
This Week in Podcasts, a newsletter that recommends sh*t tons of podcasts every week, asked for recommendations to mention in its newsletter. This is a well-respected industry newsletter that I'm sure has a substantial subscriber base. If you get listed there, your upside is much higher than any account that has hot bikini pics.
Where were all those podcasters then? The difference in numbers doesn't make sense.
Do yourself a favor and save your limited time. (If you're a podcaster, you have LIMITED time.) Market smarter. Contact people that CAN help you but do it the right way. See my helpful resources below.
Improvements – Due to an upcoming week of limited time, I pushed hard and finalized my next three episodes and have them queued up. I've never been that far ahead.
Helpful Resource of the Week – For relevancy's sake, I'll give you two resources. A) Perfecting your Podcast's PR Pitch and b) A Guide to Unleashing Your Podcast's Press Release
Podcast Gumbo Episode – National Be Heard Day With Brad Turner
Podweek 11 (3/17/20)
Parade-less
Important Note: Please note that I know that I am in a fortunate position to write this entry. I know for a lot of people, this pandemic is causing immense hardship. I am dealing with significant concerns due to having extremely elderly parents that I can't visit as frequently as I usually do.
Plot Twist: I wrote this on Saturday, March 15th. At the bottom, I have an update written three days later.
So like everyone else in this world, our social and entertainment lives have been turned a bit upside down. Last week, my plans were to go to the Thursday session of the Big East basketball tournament, a tradition that my friends and I have had for many years. For us, we call it 'the best day of the year (TM).'
I was devastated when I made the call to cancel my trip and ultimately, the BE canceled the tournament at halftime of the first game that day. (Why they waited that long is absurd but I already ranted last week so I'll stop myself right now.)
As that day went on, many U.S. sporting events got canceled for the foreseeable future. For a sports junkie like me, I couldn't help thinking about how many hours of sports watching just went away. Quadrupled with a hectic period of work that just ended, finishing my taxes, and many podcast events getting postponed or canceled, I was left staring at the wall. My social life just got obliterated by five letters, a hyphen, and two numbers.
I did not change my plans last Thursday. I kept it as a vacation day and virtually partied with my friends and watched a re-run of the Villanova-UNC championship game from 2016. I logged off Twitter for the day which was extremely beneficial to my well-being. Maybe this will get me to minimize my time on that time-sucking service.
The following day, I vowed to begin strategizing the future and how I could make the best use of this unexpected abundance of time. That got somewhat pleasantly derailed by having three hour-long phone calls that were not planned. Two were podcast-related and one was with a close friend that I needed to catch up with.
So that leaves me here, as I write this post on Saturday morning. On this National Day of Pi, I will continue brainstorming and strategizing where my podcast and newsletter go from here. How will I improve them? Where is all this going? How many licks does it take to get to the center of a Tootsie-roll pop?
Today, I will bust out Mindnode and mind map all these things that have been scattered around my computer and my brain. In due time, you'll all know how it panned out because you'll be back reading this journal every week until the end. Or not.
I'll leave you with a few links that I found valuable over the last couple of days.
Tuesday, March 17th Update
This pandemic situation has definitely taken its toll. I thought it would be easy to take a day or two off and then start cranking away. Mainly, I've struggled to focus. Luckily, I had gotten ahead of my podcast episodes but I'm behind on this week's newsletter. I've completed about 10% of what I had planned.
I realize now that I need to balance out my initial thought of how to maximize all this extra time versus needing time to relax and breathe.
I also realize that I have struggled to start which made me think of an article I wrote a couple of years ago about a 5-minute hack. Old-self is giving present-self some advice. Maybe I should heed it.
If any of you can relate, I hope these thoughts are helpful.
Improvements – I created my first real audiogram. Why tweet a static image when you can share audio (with said static image)? I used Headliner to make it.
Podcast Gumbo Episode – National Everything You Think Is Wrong Day With Virginia Marshall
Podweek 12 (3/24/20)
What Did I Say?
So back to a little normalcy. In truth, things weren't normal at all. I struggled a lot to get back on track. Luckily, I had a few episodes already in the can so I had the luxury of being a basket-case for the last week. There's something to be said about being ahead of schedule. Go figure.
This week, I'm going to ease you back into making a podcast. I have always wanted to have transcriptions on my site for accessibility reasons. One nice thing about having a short show is that transcriptions are reasonably quick. In truth, I do them manually since I script out my show. Any changes I make while recording are easy to edit in. It's not worth the time to use a service to do this.
However, I have edited a longer show with multiple speakers recorded over Google Hangouts. The quality is much different than my show. We struggled to get a decent transcription using Temi. This is more related to the file we were putting in than the Temi service.
Since then, I've looked into other options. I'm not saying these are the best but if you have a short show, they are options to consider since you do get free minutes.
The two I'll compare with my latest episode are Otter.ai and Descript. Instead of telling you how they fared, I'm going to let you see it. Here is a PDF that includes a transcription from both services. I have highlighted where it was not exact.
Obviously, these services will work differently on your recordings. Still, at least it gives you some understanding of how well it worked for me.
Issues – Getting back on track through this crappy period known as COVID-19.
Helpful Resource of the Week – See transcription links above.
Podcast Gumbo Episode – National Awkward Moments Day With Mark Pagán
Podweek 13 (3/31/20)
Showin' You The Money
This marks the end of the first quarter of the year. Crazy.
In Podweek 7, I talked about my equipment. As I stated, I wanted you to know what I use since you can hear the results. I'm a firm believer that there is no such thing as best. There are also as many podcasting setups as there are National Days. And without question, there is a point of diminishing returns and I believe it's a lot lower than one would expect.
Personally, if I had more money, I would find a sound-proof studio to record in. (I would also eat better.) I don't believe my equipment is an issue.
You can find a lot of so-called experts touting specific gear. More power to you if you have the financial wherewithal to buy what you want.
You can go cheaper than what I have. Not everything I have is critical.
Microphone: Samson Q2U Kit. $40. This was a sale price but and I've seen it at that price from time to time.
Headphones: Audio-Technica ATH-M30x. $70.
Editing Software: Hindenburg Journalist Pro. $79. I bought a one year license on World Radio Day when they discount their software substantially.
Post Production Repair: iZotope RX7 Standard. $279. I got a good deal on this software but I haven't used it much yet. But I plan to!
ID Tagging: ID3 Editor. $15. I use it to insert ID tags onto my podcast files although I think just this week, I've figured out how I can do the same within Hindenburg.
Podcast Hosting: Captivate. $9.99/month. I signed up at an introductory rate. The cost now is $19.99. Please note this is a tiered cost based on downloads. It will be an excellent problem to have if I have to pay for a higher tier.
Email: Google. $6/month. This gets me one podcastgumbo.com email address.
Website Hosting: Dreamhost. $75/year. To be clear, I started the Podcast Gumbo newsletter in April of 2018. That was hosted over at my personal domain. In October 2019, I created a new domain but I didn't incur any extra costs to host another domain on that account.
Website Domain Name: Dreamhost. $60/year. I purchased the PodcastGumbo.com, .net, .org, and .co domains. For branding purposes, I bought it for my newsletter but I knew that a podcast was probably soon to follow.
Branding: Logo creation. $300. I used 99Designs to have a logo created for my newsletter. I then paid $50 for podcast artwork based on that logo.
Business cards: $52. I got 250 business cards. I'm a firm believer that you should have a business card. I'm always stunned when I meet people at an event and they don't have anything for me to remember them by.
Stickers: $30. The easiest and most common swag to give away is a sticker. I got 250 of them.
Notes:
For my podcasts, I don't interview guests so I don't have any of those associated costs.
My podcast is short so I can transcribe manually but there are some ways to transcribe freely. See Podweek 12.
I have not included any costs to events and conferences but if you have the financial ability to attend one or more, I highly recommend them.
I have also not included the cost of a computer. I know people that create their podcasts using just an iPad.
Improvements – I'm working on cleaning up some hiss. I also may have figured out how to create chapter markers. I'll find out this week.
Helpful Resource of the Week – Lynda.com. This doesn't have to be specific to podcasting although there are various relevant classes. You may be able to get free access through your local library.
Podcast Gumbo Episode – National Manatee Appreciation Day With Adela Mizrachi
Podweek 14 (4/7/20)
Hissy Fits and Chapter Markers
Some technical advancement this week!
One thing that has been nagging at me for a while is a hiss in my episodes. I have a hard time with it unless I'm intently listening. And let's be honest, who in their right mind is intently listening to my show? Well, one person is my friend Kevin O'Connell, the Studio & Operations Manager at the PRX Podcast Garage.
Due to COVID-19, the Podcast Garage has been having some virtual studio hours and I was fortunate enough to have him take a listen and figure out how to fix my hiss. Thanks to Kevin, we were able to fix it using the Spectral De-noise filter in iZotope RX7. If that sounds techy, it is. Now I can throw that term around and appear a lot more impressive going forward.
Secondly, I wanted to figure out how to include chapter markers. For my podcast, it doesn't make a lot of sense to have them for the listener since my episodes are typically less than five minutes. But this is one of those things that I wanted to learn how to do for the future and for other podcasters.
If you know my show, you know there are multiple segments:
Intro
Guest
First recommendation
Second recommendation
Third recommendation
Extra Hot Sauce
Outro
I toyed around in my DAW, Hindenburg, to figure out how to create and export chapter markers. If your podcast app can show chapter markers, you'll see the chapter markers in this week's episode, National Walk Around Things Day.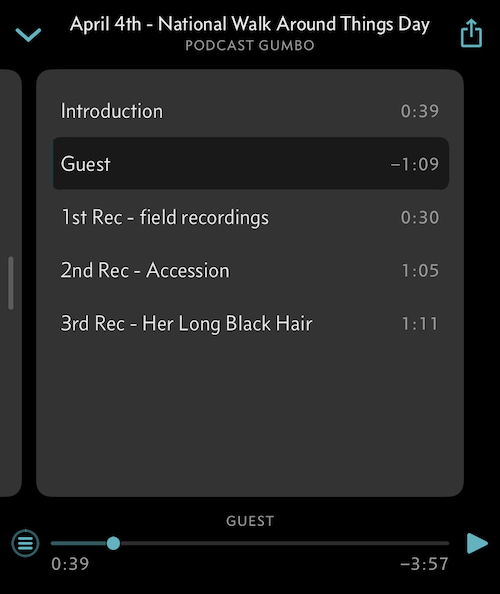 If it makes sense for your show, I think you should consider inserting chapter markers to help out your listeners. Let them quickly jump to any section of your episode. Shows that cover a lot of different topics would be well wise to heed my advice. One of my favorite use-cases is the Mac Power Users podcast.
Issues – Now that I've fixed the hiss issue, I want to redo my intro and outro because they sound different than the rest of my main content. There's a good chance that my mic was positioned very differently than where I place it now.
Improvements – Chapter markers and NO HISS!
Helpful Resource of the Week – Hindenburg Facebook group
Podcast Gumbo Episode – National Walk Around Things Day With T.H. Ponders
Podweek 15 (4/14/20)
Please apps, be better!
About a month ago, there was a lot of web chatter about podcast show descriptions and episode notes. I fiddled with my episode notes since those articles came out and felt good about the change. At least until I took a longer look at them in different apps. On one hand, it's not as bad as I thought it would be but on the other, I saw one crappy rendition in a major player.
These are all screenshots using the apps on Apple iOS.
Here is the input field I use in Captivate, which is my podcast host. Note that I can use HTML formatting.
Google Podcasts (new) – My podcast doesn't even show up as an option in the new Google Podcast apps. This is a problem!
Apple – No bolding. No separation between paragraphs.
Spotify – The worst rendering of all the apps. Text is not linked – the URLs are shown separately. No bolding. No line breaks.
Overcast – Renders the notes exactly as I would expect them to be.
Castro – Renders the notes exactly as I would expect them to be.
Castbox – Renders the notes exactly as I would expect them to be.
Downcast – Renders the notes exactly as I would expect them to be.
Stitcher – No bolding but links and line spacing are good.
RadioPublic – No bolding but links and line spacing are good.
Pocket Casts – No bolding but links and line spacing are good.
Issues – I was so proud of my chapter markers last week. But I noticed a hiccup in the Apple Podcasts app. I think one has to have a marker at the beginning of the episode or else the first marker links back to the beginning of the episode.
Improvements – Thanks to a suggestion by Alex Birch from the Podcast Garage, I updated my RSS feed to include guest names in the episode titles. Sooo much better! (This is why I hang out with people smarter than me.)
Helpful Resource of the Week – This is one article about episode notes that I reference above from Pacific Content.
Podcast Gumbo Episode – National Zoo Lovers Day With Chelsea Ursin
Podweek 16 (4/21/20)
Chapter Marker Madness
I was all proud of myself a few weeks back when I figured out how to include chapter markers in my episodes. The first episode I had them in was National Walk Around Things Day.
The following episode, I discovered a problem though. I hadn't accounted for the fact that multiple apps treat chapter markers differently, along with a lot of things like episode notes (see Podweek 15).
My app of choice is Overcast which is iOS only. I love the intuitive interface and a few of the features it provides. However, because it does things that other apps don't, my judgement gets a little clouded.
The Problem with Chapter Markers
Regarding chapter markers, here is the problem I ran into. I'll show two examples to explain. Here are two episodes and the chapter markers I added manually.
National Walk Around Things Day
Guest
1st Rec
2nd Rec
3rd Rec
National Zoo Lovers Day
First, the inconsistency.
Overcast adds a chapter marker at the beginning of the episode by default called Introduction.
Apple Podcasts does not add an introduction marker.
At the bottom of this journal entry, I'll lay out which apps make use of chapter markers.
Second, the bigger problem.
If you click on the first manually added chapter, Apple Podcasts takes you to the beginning of the piece, not to where the chapter starts. So in the Walk Around Things Day example, if you click on the Guest chapter, you get sent to the beginning of the podcast. That makes no sense.
The Solution
Below are the chapter markers I added manually to my latest episode.
National Hanging Out Day
Introduction
Guest
1st Rec
2nd Rec
3rd Rec
Extra Hot Sauce
Outro
Manually adding the Introduction chapter marker at the very beginning of the episode allows it to work properly on Apple Podcasts (and doesn't mess up Overcast).
Here are how some of the more popular apps treat chapter markers. These are all on iOS unless noted otherwise:
Spotify – I don't see any chapter marker functionality.
Google Podcasts – I don't see any chapter marker functionality.
Castro – I don't see any chapter marker functionality.
Castbox – I don't see any chapter marker functionality.
Downcast – Has chapter marker functionality. However, if you use the skip back button to go to a previous chapter and there isn't one set at the beginning, it jumps you to the previous EPISODE you were listening to.
Stitcher – I don't see any chapter marker functionality.
RadioPublic – I don't see any chapter marker functionality.
Pocket Casts – Has chapter marker functionality but no way to jump easily to the beginning of an episode.
This was not the intended purpose of writing this journal entry but it gets clearer all the time that Overcast is so much better than most other apps.
Note: I don't go back and edit/fix previous episodes so you can see all this for yourself in your app of choice.
Podcast Gumbo Episode – National Hanging Out Day with Eugene Leventhal
Podweek 17 (4/28/20)
The Break
This week, you get a break. Why? Because I took one myself.
Because I procrastinated with my episodes AND I pumped out a bonus episode, I did nothing with my podcast except to get those out the door.
Maybe that's the lesson for this week. If you're on a schedule and you have time, do a bonus episode. Or not.
Issues – I'm still having issues with Google which sucks.
Improvements – I cleaned up some episode show notes. It's like whack-a-mole.
Podcast Gumbo Episode – International Parent Alienation Awareness Day with Helen Zaltzman and National Pretzel Day with Nathan Jones
Podweek 18 (5/5/20)
Read It Later
If you are a podcaster, hopefully, you are reading industry sources. Sure, you can bury your head in the sand and just make your show. If people like it, more power to you.
But if you are serious about creating something worthwhile, even if it's just a hobby, you should be following industry people that can lead you to sources of excellent information.
For me, I like to keep up to date by getting various newsletters. The only issue is that I can fall way behind and then I don't want to catch up because it's too overwhelming. My podcast inbox needs to be purged but I also don't want to digitally circle-file everything because I know there's quality stuff in there.
This week, I started skimming individual industry emails and noted one compelling article from each one (if one exists) and put it into a list that I can then look at.
Sure, that pushes out stuff further but at least I've made a first pass at it to cull it down.
The newsletters I have found consistently valuable are as follows (no particular order):
Please note that these are industry newsletters, not podcast recommendation newsletters. We all know there is only one podcast recommendation newsletter that you need to subscribe to…
Podcast Gumbo Episode – National Shrimp Scampi Day with Merk Nguyen
Podweek 19 (5/12/20)
Google Is Finally My Friend
Here's something that has been making me sad. I've mentioned this before but I finally have good news.
The Google Podcasts app came out for iOS recently. Whenever I did a search for 'Podcast Gumbo', I would get random results. Most of the time, it would NOT return my podcast which is silly because that's the exact name of my podcast.
Other times, the main thing it would show is my Listen Notes Podcast Gumbo Newsletter playlist which I've had up for two years to make it easy for listeners to easily download all the good recommendations from my newsletter. This is confusing to searchers.
After doing some sleuthing, I wrote to Listen Notes letting them know my problem. Oddly, this playlist only appeared in Google – not in any other platform like Apple that I'm aware of.
Wenbin, the founder of Listen Notes got right back to me and did some digging himself. He had to add a line of code that made Google not index the playlists from his site. He had done that for Apple which is why Apple never indexed it. A few days later, all was working properly.
At the same time that was happening, Google launched its Google Podcasts Manager where you can easily submit your new podcast and see listening data. Through my hosting provider statistics, I knew that not many people were using the Google Podcast app to listen to my show. With this new Podcasts Manager site, that fact has been confirmed!
Nonetheless, it's one headache out of the way.
Helpful Resource of the Week – Google Podcasts Manager
Podcast Gumbo Episode – National Sleepover Day with Kate Evans
Podweek 20 (5/19/20)
Friends With Benefits
During this pandemic, I am extremely cautious about protecting myself and others. Unfortunately, as someone that lives alone, this can really suck. So, like a lot of people, I am constantly on video calls to feel some sense of community.
Last week, Scott Johnson, the host of What Was That Like, agreed to be my friend for an hour. I'm writing this not to bore you about our chit-chat but to say I got to do a real trial of Squadcast.
I met the Squadcast people at Podcast Movement 2019 and shortly thereafter, I got a short demo of their product. However, since Scott uses Squadcast for his interviews, I asked him if we could have our call using the service and he kindly agreed.
From a guest perspective, it couldn't have been any easier. He didn't have to walk me through anything. I just sat back and yapped in his ear. After it was over, Scott sent me the audio files so I could hear what we sounded like and it was solid. I also recorded half of it in my kitchen and the other half in my closet so I could hear how I sound in both environments.
If/when I need to do a remote interview, I would strongly consider Squadcast. Zencastr is another well-known option. I played with Zencastr two years ago and I'm sure their product has improved so I can't say which one I would ultimately pick.
Note: During the pandemic, Zencastr has kindly loosened their restrictions on their free plan so if you have an immediate need for remote recording, it's worth looking into.
Helpful Resource of the Week – After I wrote the above, my friend wrote this great guide to Zencastr.
Podcast Gumbo Episode – National Nylon Stocking Day with Evo Terra and Giving Tuesday Bonus Episode
Podweek 21 (5/26/20)
Show Swapping
Last week, I mentioned having a call with Scott Johnson, my friend and host of What Was That Like. I said last week I wouldn't bore you with details about our conversation but I wanted to share this with you (with Scott's permission).
One strategy to gain more listeners to your show is to do a cross-promotion with another similar show. Any good marketing person (podcast-related or not) will tell you that you need to find where your potential audience is. You don't just blast out your thing into the world with the hope that tons of people will find it.
Jack Rhysider, host of the popular Darknet Diaries podcast (and one of my favorite shows) has talked about his experiment with cross-promotion with large success.
Scott told me he recently did an episode swap with the This Is Actually Happening podcast and it was a great success. The specifics he allowed me to share are that April was a record month for downloads and he hit April's number in the first eight days of May.
If I were to do the same, I would look for a show that does podcast recommendations or maybe a show that revolves around National Days or maybe a show with a host that similarly acts like a child.
Podcast Gumbo Episode – National Harvey Milk Day with Cherie Louise Turner
Podweek 22 (6/2/20)
Alexa, Play My Damn Podcast
One minor thing I like about having a short podcast is that someone can listen to it when they are in their morning routine. You could rip through multiple episodes during your morning shit, shower, and shave. (I have no idea what the equivalent is for a woman, sorry.)
In my trailer, I mention listening to it on your smart speaker. Little did I know back then how difficult that would be. I've taken a stab at getting it right previously but gave up out of frustration. I finally came back to it this week.
On Amazon's Alexa devices, I've finally cracked the code. I now know what syntax works and what doesn't work.
Works:
Alexa, play the podcast Podcast Gumbo by Apple.
Alexa, play the podcast Podcast Gumbo by Tunein. (I think Tunein is the default directory Alexa pulls from but I'm not 100% sure about that.)
Alexa, play the podcast Podcast Gumbo by Paul Kondo.
Doesn't Work:
Alexa, play the podcast Podcast Gumbo by Google
Alexa, play the podcast Podcast Gumbo by Spotify is no good if you don't have the skill setup. My friend was helping me test this and he did not have the Spotify skill setup so I'm not sure if this would work or not.
Alexa, play podcast Podcast Gumbo podcast returns a different podcast.
Alexa, play the podcast Podcast Gumbo.
Alexa, play Podcast Gumbo from Apple returns a different podcast.
Alexa, play Podcast Gumbo from Tunein returns a different podcast.
Please note that if you have a more unique name that doesn't have the word podcast in the title, you may have better luck.
Issues – Google voice assistant is not as friendly as Alexa. I'm working on that next.
Helpful Resource of the Week – This is a recent edition of the Inside Podcast newsletter. In it, Skye interviews Kavein Thran. Kavein is a blind podcast fan. He reached out to me directly a while back about my archive but subsequently have talked about accessibility. I have been a lot more conscious about being more accessible. At the end, there are helpful resources on how to be more accessible.
Podcast Gumbo Episode – International Flight Attendant Day with James Cridland
Podweek 23 (6/10/20)
Boom (arm)
Way back in Podweek 7, I listed my gear and in Podweek 5, I showed you my awesome recording studio.
Since then, I hadn't made any improvements that cost money until this week. I'm not sure why I waited so long since it now seems like a no-brainer. This week, I bought a boom arm for $27.
The reason why I bought it is that if you look at the photo from Podweek 5, you'll see that I have to hunch over if I want my mouth to be about a fist's length from my mic. So it's not a natural position to be in. Sure, I could raise the mic and laptop but it would be a hassle to do on a weekly basis.
If you look at the new setup, you can see the mic is much higher (at mouth height) and I've put the laptop higher so I'm in a much more natural sitting position. Plus, I can move my arms around (as much as I can cramped into a closet).
Will it make a big difference? Probably not. But I'll be more comfortable so it has to make a little difference.
Issues – I haven't worked on my Google problem that I mentioned last week.
Helpful Resource of the Week – How to Make Your Podcast Sound Better with Simple EQ Techniques
Podcast Gumbo Episode – National Veggie Burger Day with Arielle Nissenblatt
Podweek 24 (6/16/20)
Oh, The Humanity
As previously mentioned, I use Hindenburg as my editing software. I looked at a handful of software before choosing. Audacity, Reaper, GarageBand, Adobe Audition, Pro Tools, Logic.
I didn't necessarily trial them but I looked into them and played for a bit with the ones that would let me do that.
I attended training on Hindenburg and had an extended trial so I was able to see how good it was. But what it came down to the simple interface that behooves its power. It does what I need it to do without bogging me down with a ton of stuff that I have no need for.
But as one is apt to do, I started using a piece of software and figured it out with some Just-In-Time learning. This week, Bryan Entzminger, the owner of the Hindy Users Facebook group released a beginner's course on Hindy. I bought it at a very low discount so I could support Bryan because he has been incredibly giving with his time helping Hindy users.
I didn't think I would learn much since it was a beginner's course but I sped through it anyway and picked up a few things. I am awaiting some bonus tutorials to come in the future.
It was a good refresher to know my process and skills were pretty solid.
No segue: Within the past week, I was on two separate podcasts.
Inside Podcasting: I interviewed Skye Pillsbury about her interview with Earlonne Woods and Nigel Poor, the hosts of Ear Hustle.
Shaping Opinion: Tim O'Brien was kind enough to interview me about the podcast industry and why we listen.
Helpful Resource of the Week – I posted a question to the Hindy group about setting loudness and got an answer that made me aware of this useful free plugin – Youlean Loudness Meter.
Podcast Gumbo Episode – National Loving Day with Skye Pillsbury
Podweek 25 (6/23/20)
The Next Great Idea
This may come as a shock to some people but the current incarnation of my podcast was never meant to be a long term thing. When I launched, I saw it as a one-year concept but ultimately, I would move on to something different.
My mindset hasn't changed and I think it has been accentuated by being on two other shows recently and not sounding like a complete idiot, at least in my mind. As I mentioned last week, I was interviewed by Tim O'Brien on the Shaping Opinion podcast and we talked about what else, podcasts.
In a little different scenario, I interviewed Skye Pillsbury on her show about what it was like for her to interview the Ear Hustle hosts.
I'm constantly jotting down ideas for my next great podcast. What those interviews showed me that although not perfect, I don't have to be terrified by spit-balling. My podcast is all scripted plus I can make myself sound good by editing. I didn't have that luxury for the podcasts above.
A few days ago, I had an impromptu call with a friend/mentor and we bantered about some concepts for my next show which made me think about the future a little more.
Helpful Resource of the Week – Professional sound from a DIY studio: It can be done!
Podcast Gumbo Episode – National Ice Cream Soda Day with Catherine O'Brien
Podweek 26 (6/30/20)
No Half Measures
I've officially reached the half-year mark of my podcast. No disasters. More importantly, I've learned quite a bit which was always the intent.
After an early debacle where a guest decided not to be a guest at the very last minute, I have been diligent about scheduling guests pretty far in advance and most of my guests have stayed pretty true to my schedule.
The other day, I realized that I all the information from all my July guests already so with some spare time this week, I scripted all of them and plan to have all of them queued up before July starts. (I'm writing this on 6/27) so I'll post an update on 6/30 when this goes live. I'd love to make that deadline.
6/29 Update: I have indeed recorded them all! What a great feeling to have a month in the queue.
Improvements – I finally re-recorded my intro and outro. They were recorded very early on and never matched my weekly recordings and it's been bugging me forever. I finally got off my arse and redid it.
Helpful Resource of the Week – Making a Podcast That Matters
Podcast Gumbo Episode – National Handshake Day with Cody Gough
Podweek 27 (7/7/20)
Social Misery
Last week, I mentioned that I had completed all my July episodes by 7/1 so there was nothing pressing to do. I don't want that to go to waste so my plan will always be to stay a month ahead.
So with a little extra time this week, I found myself back in a familiar position – thinking about how I deal with social media.
I really hate it and truth be told, I think it does very little for me from a marketing standpoint. However, the huge reason is that I hate it, I do very little of it, and I think that comes through. So the question is if I push to do it better or do even less.
It should be no surprise that social media, specifically Twitter, is a huge time suck and I have to figure out that if I am going to use it better, I need to find a way that I can get in to do what I need to do and then get out just as quickly.
Right before the pandemic hit, I was sorta succeeding with the use of Tweetdeck. But then I found myself reading a lot of news on Twitter (which is not good either).
After reading this article today, I was pushed to finally do something about it. So my first steps were:
Block twitter.com
Even though I blocked twitter, I can still access tweetdeck.twitter.com so I can post easily and not get distracted.
Purge my twitter list so that I only see tweets from those I want to see. I had 150 on that list and now I'm under 70. That list may come down further.
I also blocked a bunch of other sites, most notably news sites which create too much mental anxiety on a daily basis. This will be an ongoing process as I do need to get some news.
Helpful Resource of the Week – Someone asked me for some trailer advice and I gave them this article. I'm always for the less-is-more approach but this also gives good pointers on what to include.
Podcast Gumbo Episode – National Dive Bar Day with Paul Orefice
Podweek 28 (7/14/20)
Beaten Into Submission
I don't spend enough time on marketing and advertising my show which is probably the reason I get only 2 downloads per episode.
One thing that is available to me that some other people may not have access to are directories related to people of color. Specifically, the Podcasts in Color and the Asian-American Podcasters directories.
This week, I finally did something about that. I submitted to the AAP Podcast directory and I put myself on notice when Podcasts in Color opens up for submissions.
This took all of 10 minutes total. I am one lazy PoS!
Helpful Resource of the Week – How to mix: 8 steps to master the art of mixing audio stories
Podcast Gumbo Episode – National 7-Eleven Day with Claude Call
Podweek 29 (7/21/20)
Efficiency not Laziness
On 7/1, I mentioned that I had gotten ahead on episodes, and I was hoping to stay that way. Of course, 2.5 weeks later, that all was a big fat wish that didn't come true.
But this past week, I ended up getting back on track. I wrote, recorded, and edited 4 episodes. And one thing that hit me was that what I thought was the big benefit (getting ahead to minimize last-minute pressure) was not as important as this:
It's so much more efficient to do a bunch of episodes at one time. Once I'm in a writing flow, I can just keep going. Same with recording. Editing is not as much of a big deal although it does help.
So, my mindset now is locked into this chunking of episodes. In possibly a good world, I don't do anything for 2 or 2.5 weeks and then I crank out 3 episodes simultaneously.
Issues – Even though I re-recorded my intro/outro a couple of weeks ago because it was really bothering me, I don't like this re-record. But I have no interest in doing it again.
Helpful Resource of the Week – How to Market Your Podcast
Podcast Gumbo Episode – National Gummi Worm Day with Joni Deutsch
Podweek 30 (7/28/20)
I Got Nothing
I could sit here and type lies or I could tell you that I did absolutely nothing with my podcast this week. Not intentionally but I just took care of other matters. Sue me.
Podcast Gumbo Episode – National Amelia Earhart Day with Wade Roush
Podweek 31 (8/4/20)
Soundproofing is Over-rated
One thing every podcaster should be doing is to improve their sound quality. Yes, I know that content is king but my opinion is that if you have two shows with fairly equal content, I'm choosing the one that sounds better.

In my opinion, it doesn't take a lot of effort or money to improve your audio. You don't need a $200 mic. You don't need to rent space for tons of money. There are plenty of tricks to get better audio.

From the get-go, I've always tried to have good audio. Lately, during the heart of the summer, it has come at a cost. Turning off the air-conditioner and jumping into my clothes closet to record is no fun. On the plus side, I've lost a lot of water weight!

This past week, an upcoming podcast guest sent me their National Day that related to water. Coincidentally, I was heading up to Maine for two days on the lake. So I took a chance and recorded the episode outside, on the water, while nature created a bunch of room tone. I feared the worst but my Samson Q2U mic handled it extremely well.
Lots of thoughts going on in my head now including the idea that I don't have to bury myself in my closet. I've tried it before but maybe I need to give it another go.
Helpful Resource of the Week – The Who, Why, and How of Podcast Marketing
Podcast Gumbo Episode – National Ice Cream Sandwich Day with Julian Weller
Podweek 32 (8/11/20)
Gear Update
In Podweek 7, I gave a rundown of what I use to make my podcast. It may be a surprise to some of you, but things can change fairly quickly if you are new to making a podcast.
Things have indeed changed since then, so I've decided to update what I'm doing now. (This tosses out my ability to move my recording studio to the lake on a weekly basis.)
If you are interested in my setup, jump back to Podweek 7 to get details on everything I use.
Microphone: Samson Q2U. I still use it. Haven't been tempted to upgrade to the Q9U since it still hasn't been released and I'm not sure that's the best way to spend $200 anyway.
Headphones: Audio-Technica ATH-M30x. Same.
Audio Production Facility: My closet. I've upgraded. No, the clothes are still the same but I got a boom arm that I described in Podweek 23.
Boom arm: InnoGear Microphone Stand
Podcast Hosting: Captivate. Same.
Editing Software: Hindenburg Journalist Pro. I continue to improve my mad skills. Same.
Post Production Plugins: iZotope RX 7 Standard. Here's a little change. Way back when, I had it but didn't know how to use it. I have since learned to use things like the de-esser, de-plosive, and spectral de-noiser on my beautiful but flawed voice.
We Hardly Knew Ya: I have ditched Auphonic as I feel comfortable doing any leveling and normalization in Hindenburg. I have also ditched ID Tag Editor since I can tag my files in Hindy as well.
Helpful Resource of the Week – PodMov Daily newsletter
Podcast Gumbo Episode – National Sneak Some Zucchini Into Your Neighbor's Porch Day with Dahlia Snaiderman
Podweek 33 (8/18/20)
Playin' Around
I'm on pseudo-vacation this week. Unfortunately, I can't go to any fun destination so I decided I would NOT look at my To Do List which has way too many things on it and just make a Want To Do List and do those things.
Since I'm a geek at heart, one thing I'm doing for FUN is to play around with software. I've been watching a bunch of tutorials on various software, including Hindenburg. I've also been trying out a couple of mouse options to see if that will make me more efficient. So far, I haven't found a mouse that I like using (even the expensive ones). I'm going to give a more basic mouse a try but I'm also about to see if Better Touch Tool is more to my liking. Stay tuned.
Helpful Resource of the Week – No More Headaches: Mixing and managing your audio.
Podcast Gumbo Episode – National Nonprofit Day with Hannah Hethmon
Podweek 34 (8/25/20)
More Horseplay
Continuing with last week's journal, I was a full-on geek while on vacation. I continued to watch a ton of tutorials, researched different plugins like Waves Vocal Rider which I subsequently bought, and generally fooled around with technology to help me in the future.
Nothing super-exciting for you (is it ever?) but it certainly was fun for me. Of course, now I need to put this stuff in action.
Helpful Resource of the Week – How to Make Your Podcasts Sound Better with the Vocal Rider Plugin by Waves
Podcast Gumbo Episode – National Secondhand Wardrobe Day with Stephen Warley
Podweek 35 (9/1/20)
Mixing and Mastering
Two weeks ago, my helpful resource of the week was a video about mixing and managing your audio. I went through it again and if you edit and mix your show, it's definitely worth watching. The good thing for me is that they suggested a bunch of things that I already did. Maybe it's because I was a video editor back in the day so this is not new to me.
I also bought a training course on iZotope RX. As I mentioned previously, I use Hindenburg as my DAW and it has an excellent noise reduction tool that is so easy to use. However, sometimes, you need to be able to fix individual flaws and Hindy can't do that.
So, although I'm technically not working on MY podcast since it's already flawless, there's always room to improve your skills.
Now, if I spent more time on marketing my podcast instead of learning software, maybe this wouldn't have to be just a hobby….
Helpful Resource of the Week – Podcast Formats: the Complete Guide
Podcast Gumbo Episode – National Beach Day with Elena Fernández Collins
Podweek 36 (9/8/20)
Fallin' Behind Or Gettin' Ahead?
Back in Week 6, I wrote about how I lost a guest at the last minute. Not wanting to have that debacle happen again, I made it a point to get ahead of my episodes which I wrote about in Week 29.
And then, I took a staycation and didn't focus on my podcast at all. (Lucky me!) This week, I went through all the emails I had gotten from guests and put them into my task manager (Omnifocus) and realized that I have six(!) episodes all ready for me to work on. No excuses.

That a nice feeling. No having to worry about a deadline except to make sure I get my arse in gear to produce these episodes.
I also contacted a bunch of guests and I'm close to having commitment for the rest of the year. That is a really nice feeling.
Helpful Resource of the Week – 280 World's Record for Most Podcasting Mistakes In An Episode
Podcast Gumbo Episode – National New Hampshire Day with Matt and Emilio Barnard
Podweek 37 (9/15/20)
Let's Hear the Chatter
Well before I started my podcast, one thing that always bothered me as a listener was the same common phrase – "please rate and review us." Sure, that may make your ego feel good when someone leaves a nice review but it's doing nothing to gain most listeners.
Many new listeners come from word of mouth. So maybe instead of asking for too much, ask for one thing – to have a listener tell their friend about your show.
I'll admit that I don't do this. I have a Call to Action but it's to go to my newsletter AND it's buried in my outro. How many people are listening to my outro (or any podcast outro)? That's a rookie mistake.
Helpful Resource of the Week – 10 of the Best Insider Podcast SEO Tips to Optimize Your Podcast
Podcast Gumbo Episode – National Bald Is Beautiful Day with Jon Gay
Podweek 38 (9/22/20)
Check Yourself
If you create a podcast for fun, you should have your head checked. Or at least, be perfectly clear of your goals because it can be overwhelming.

Recently, a few things popped up.

Amazon Music announced that they would include podcasts in their service.
Adam Curry, created The Podcast Index.
There's also the relatively new Podcast Academy (which has nothing to do with the Podcast Academy) that I've been thinking about.
Even though podcasts have been around for a while, it's still relatively new so things are constantly popping up. Too much for a hobbyist to keep up with. If your podcast is a side project or just for fun, you can't possibly keep up.

If you feel that you want bigger things for your podcast, then it really is overwhelming because you feel like you have to know and do everything.
Ultimately, you can't. So do what you can and stop stressing. I know that's simplistic advice but you'll drive yourself crazy if you think you can do it all.
Helpful Resource of the Week – Ready, Set, Grow! A Podcast Growth and Marketing Event from Captivate
Podcast Gumbo Episode – Autumnal Equinox with Isabel Cadenas Cañón
Podweek 39 (9/29/20)
Bears, not Bares
How it is possible that it's week 39 of my podcast?

On one hand, 39 doesn't seem like a lot. On the other, even for my short little podcast, I've spent a lot of time on it. And although I feel like things have improved, one thing still crops up from time to time.
For me, I hate it because generally, I hate to chase. I feel I respond to most emails in a timely manner. Having to send multiple reminders gets old fast.
Even as I have tried to get way ahead of scheduling my guests and getting their information to me in a timely manner, it doesn't always happen. I mentioned this way back in week 6 and it bears repeating. This is YOUR podcast. It may be important to you but it's a lot less important to your guest.
I have a friend that does long-form interviews for her podcast and I've heard stories of how long it can take to book a guest.
So this is reminder that if you plan to have guests on your show, know that it's probably going to cause issues and you need to be prepared for it. People have their own schedules and your podcast is not a high priority.
Helpful Resource of the Week – Should Your Brand Launch a Podcast? Here's How to Tell If It's Worth Pursuing
Podcast Gumbo Episode – National Public Lands Day with Ashley Lusk
Podweek 40 (10/6/20)
Finis
In my newsletter last week, I made the big announcement. At the end of this year, this version of the podcast will be complete. No more friends asking about a National Day for me to dig up a podcast episode for. Who need that hassle, right?
I'm moving on to something bigger and better. I hope. I've got a bunch of things running through this little noggin with nothing remotely solidified.

Just know that it needs to make money. It will be fun. And most importantly, it needs to make money. Hobbies are over-rated.
Helpful Resource of the Week – Recording from Home: Remote Interviewing Tools
Podcast Gumbo Episode – National Get Funky Day with Johanna Nuding
Podweek 41 (10/13/20)
More Learning
In Podweek 35, I mentioned buying a course to learn iZotope RX. As it turns out, I wasn't thrilled with it. Subsequently, a new version of RX came out (version 8) which has some new features.

I do love this software even though I'm still learning how to use it. I've been able to fix some serious problems on a client podcast.

Even though it's on version 8, I found a course for version 6. Sure, it's a little outdated but there's a lot that has stayed the same.

So, my tip to you is if you are wanting to learn a piece of software, always check out Lynda.com, which is known by newbies as LinkedIn Learning. And the bigger tip is that you may be able to get a free subscription through your public library.
Helpful Resource of the Week – Lynda.com
Podcast Gumbo Episode – National Fluffernutter Day with Zach Davis
Podweek 42 (10/20/20)
I'm 'Gramming
One thing that many smart people will tell you to do when choosing a name for your podcast is to check if that name is available on all the social media platforms. It's soooo much easier if you can get those.
You could tack on something like 'pod' at the end of the name if the name you want is not available. For me, I think as critical is that you have consistency across all your handles.
I did NOT do this.
I only worried about my domain name. I actually got the .com, .org, .net, and .co domains to cover my arse.
For social media platforms, I could get Podcast Gumbo for Facebook. It was not available for Twitter or Instagram though. However, those accounts were not being used so I wrote the owners multiple times to no avail.
For Twitter, I was already using my name @paulkondo so I kept that branding. I chose not to do anything with FB except set up the page so it wouldn't be taken and I did nothing with IG.
Last night, for no good reason, while I was wasting time watching a crapload of reels, I decided to check for the podcastgumbo account. Whoever had it, gave it up so I quickly snatched it up. When I start using it is anyone's guess but at least it's mine now.
But alas, the Twitter account is still not available. Unused but not available.

So follow me over at @podcastgumbo on Instagram for absolutely no good reason. Yet.
Helpful Resource of the Week – How to negotiate podcast IP
Podcast Gumbo Episode – National Sweetest Day with Travis Osterhaus
Podweek 43 (10/26/20)
Into the Reflecting Pool
Believe it or not, I have never gone back and read this entire post from Podweek 1, probably because it's way too long. Have you? If so, I should give you some money.

After I posted last week's entry, I decided I would go back and read everything. I was curious as to where I started and where I am at now. And the answer?
It took me a LONG time to get through it all. But I have to say, I impressed even myself. That's a lot of stuff to take in.
Helpful Resource of the Week – I'm a journalist. Here's what I want podcast hosts to know before interviewing me.
Podcast Gumbo Episode – National Mole Day with Andrew Geary
Podweek 44 (11/3/20)
Weak Sauce
Due to unforeseen circumstances that life throws at you, I had to just put aside anything podcast related. I didn't even listen to one podcast the entire week!
See you next week.
Podcast Gumbo Episode – National Candy Corn Day With Stephanie Kuo
Podweek 45:
Fancy Pants Terminology
Here's a little bait and switch that I don't think you'll mind. I'm surprised that I haven't talked about this much.
As I look to the future by working on another podcast project, my friend and I are testing out some ideas. And the first thing that came to mind is the concept of rapid prototyping. How sexy does that sound?
In my terms, rapid prototyping is a method where you quickly iterate concepts instead of taking your time to perfect something (only to find out how imperfect it is). You'll save so much time and energy by doing it this way and you'll have a much better product. Or you may realize that you should scrap the product without a ton of time and money invested which should not be discounted.
After we came up with ideas that we thought were good, I stressed the importance of recording some test episodes. I stressed the importance of not waiting until we thought we had the perfect idea. And that's what we did. And immediately, we realized there were things we wanted and needed to change.
So, we're busy making changes, and we'll do another test recording. I imagine we'll go through a handful of them until we feel like we have something worth putting out.
Helpful Resource of the Week – Why You Should Have a Podcast Website
Podcast Gumbo Episode – National Parents as Teachers Day with Kinsee Morlan
Podweek 46:
Advice of Value
Maybe because this pandemic sucks, I got a little nostalgic for the good ol' days of Jan and Feb 2020 (and before). At that time, I could still hang out with my podcasting friends.
For the next bunch of months, I could still hold zoom meetups and last month, there were a bunch of virtual podcast events. But obviously, it's not the same.
Luckily for me, I am part of the Bello Collective slack community, so I can talk with fellow podcast fans and makers there on a daily basis.
I know this going to sound obvious but if you want to be a podcaster, just like most other jobs, build relationships. I have gained so many FRIENDS in this industry in a relatively short time. I have found it much like the film industry – we all love to talk about podcasts and I find it rare to come across people I don't like.
But it's not just friendships. I'm able to bounce a lot of ideas off these friends. Sure, I could ask my non-podcasting friends but they are idiots and I can't trust them. I need valuable advice….
Helpful Resource of the Week – Do Podcasters Need Social Media? (Do you dare?)
Podcast Gumbo Episode – National Spicy Guacamole Day with Adam Gamwell
Podweek 47 (11/23/20)
Community
Cool. Cool. Cool. (Do you get the easy reference?)

One thing I have done an incredibly poor job of around my podcast is building a community. What's funny is that's the one thing that I always think about – community.

I do next to nothing. I hope that people will listen (even though I do a shit job of marketing it) and then they will engage with it.

If I take 50 steps back, I just want to send a reminder out to all of you that are reading this and ask you why you are creating your podcast? Is it for you, no matter how many people are going to listen? Do you feel you have something valuable to give to the world?

If it is indeed valuable, then you should want to share it. And if others think it's valuable, then they may want to do more than just provide a link to your episode. Maybe they want to engage with like-minded people. So you need to ask yourself if you are providing that avenue for them.
Helpful Resource of the Week – 'Butt cut what?' A glossary of audio production terms and definitions
Podcast Gumbo Episode – National Eat a Cranberry Day with Berry Sykes
Podweek 48 (12/1/20)
Quick and Dirty Transcription
I can't believe it took me this long to figure this out. As you know, at the beginning of each of my episodes, my guests sends an audio recording challenging me to find an episode related to what National Day it is.

Since I transcribe my podcasts to make it accessible to more people, I manually transcribe their audio.
My process 11 months has been to play the file on my computer in Quicktime and start and stop it until I got it all written out. But for some reasons, 10.5 months too late, I realized I could use the Drafts app I have installed on my iPhone to do the transcription.

Drafts is a great app for taking notes. And it has the capability to record the note using a microphone. So, I simply played my guest's audio on my computer and had my iPhone transcribe it. And since Drafts has a Mac app, it is immediately synced/sank/sunk over to my computer.
As with any transcription service, it's not perfect. But correcting mistakes is a lot faster than transcribing the entire piece.
Helpful Resource of the Week – Podcast Marketing Tips for Sports Podcasts, or Marketing Tactics We Can Learn From Sports Podcasts
Podcast Gumbo Episode – Computer Security Day with Reva Goldberg
Podweek 49 (12/8/20):
$2.21 for 2021
I can't ever pass up a good deal. At least, the cost was so reasonable, it was worth taking a flier/flyer on this one.
In Podweek 12, I tested out two different transcription services, Otter.ai and Descript. Recently, Podcasttranscribe.com offered up a deal that for the rest of 2020, you could get any piece of audio transcribed for $2.21.
I was curious about it, so I took the same piece of audio that I ran my test with earlier to see if it was any better.
Here is the transcription that I got back of my National Awkward Moments Day with Mark Pagán (open in separate window so you can listen to it while following the transcription).
Speaker 1: Hey, this is Paul Condo. This is the podcast gumbo podcast, and I've got a rhetorical question for you. Are you like me and find those things we call National days like Cheese Ball Day or Worse, Moldy Cheese Day. Amusing? Yeah, me too. So each week I'll have one of my podcast friends challenged me to find an episode related to one of those days, and I'll be releasing it on the actual day it occurs. So let's get to it. What is today's National day? Hey,
Speaker 2: folks, this is Mark Pagan, and the holiday I'm picking is national awkward moments day on March 18th. I mean, really, who needs March 18th when so many of us live this day so much of the rest of the calendar year? But thankfully, they gave us one day in which we can all get together and be awkwardly silent, or I don't know what else see, even right now being awkward. Alright, that's my holiday. I'm sticking to it.
Speaker 1: As Mark awkwardly said, Today is March 18th and his national awkward moments day. Someone really needs to get that man some help. Of course, when you get him some help, get me some Aziz. Well, I'm no different than anybody else in this world that hasn't been mortified about something they've done many times over. So today. Think about that time when you ask someone when she was due and she wasn't pregnant and try to laugh it off. True story. I was at a party and I was in a conversation where that happened. I wasn't the one that said it, and luckily the woman elegantly brush it off. But since that day, I don't ever ask someone if they're pregnant until I see their kid on the playground have a hearty laugh today by sharing your stories, using the awkward moments day hashtag. There's a good chance that you had a lot of awkward moments when you were a kid. Some people relive them by digging up their old diaries inexplicably, some people read those diaries in front of a large audience. Well, that's the premise of the mortified podcast. And in The Love Hurts episode, you get to hear too young love stories that indeed hurt. This week's suggestion comes from my friend Mark Pagan. The host of the other Men need help Podcast. Marc's podcast bisects the way. Other men avoid accountability, cling to power mask insecurities and quietly screamed for connection. In the episode, entitled, She makes More Mark talks to a few other men about their feelings whose partners make more money than they dio but, as it turns out, is not just other men for closing Recommendation. Mark recommends the Latino use a podcast episode on Orlando L. Gatto Melendez, a performer on the Harlem Globetrotters, which Marks says he's listened to multiple times as it gives him such optimism. No extra hot sauce today except to say that I was once daydreaming and a girl yelled at me for staring at her. That happened in the eighth grade, and I'm still not over it. Come back on March 25th toe. Appreciate everyone's favorite herbivore, the manatee. As always, take a look at the show notes for links to all the podcast mentioned in this episode, as well as other life altering information to make it easy for you. There's also a link to a podcast playlist that will contain all the episodes ever mentioned in the show. See you next week, some time for another round of recommendations. Are you still listening Do you still want more podcast? Goodness. If so, get on over to podcast gumbo dot com and subscribe to my newsletter today.
Helpful Resource of the Week – PodcastTranscribe.com
Podcast Gumbo Episode – National Pretend To Be a Time Traveler Day with Jack Conway
Podweek 50 (12/15)
Please Test!
Ok, this is not about something I've learned while doing my podcast but it's still an important message for all you folks.
I have a client that has a podcast where she talks with her co-host using Zencastr. She also has segments where she just records solo, directly into her computer. As we have been working to improve her show, we constantly are dealing with inconsistencies in the sound.
Everything is the same except for the software she's using to record. Same mic, same computer, same physical location and setup. As we have investigated, one thing that we have noticed is that Zencastr (and other services of that ilk) try to make recordings sound as good as they can. Kudos for that. But sometimes, they do things that maybe you aren't aware of.
So, all I'll say for now is that if you are using any service, a) make sure you familiarize yourself with all the settings but more importantly b) TEST. Run as many tests as you need to make sure you can get consistent sound and work out any kinks.
My feeling is that you don't get many shots at keeping an audience and if your audio is subpar, you are taking a big risk.
Helpful Resource of the Week – All The Ways To Make Money In Media Without Ads
Podcast Gumbo Episode – National Dewey Decimal System Day with Travis Lux
Podweek 51 (12/22/20)
End of the Year (Almost)
Who's doing anything on their podcast during this time of the year? Not me.

Actually, that's not true. This past week, I cranked through the last two episodes of the year AND more importantly, my podcast. At least the version that relates to National Days.

I'm feeling good about that but a little sad as I go through my archive.
Helpful Resource of the Week – 5 Time-Saving Steps for Creating Quality Podcast Show Notes
Podcast Gumbo Episode – National Crossword Puzzle Day with Joshua Rae
Podweek 52 (12/31/20)
Ta Da!
I made it! It's the last day of the year and I've met my personal podcast commitment.
So, all I'll say is thank you. Thank you for reading.
If you are thinking of starting a podcast or are near the beginning of your journey, I hope this bandwidth-taking journal provides you some value. 
Here endeth the lesson. (credit Jim Malone)
Podcast Gumbo Episode – December 26th – National Thank You Note Day with Alex Birch